chelsea student residence
Welcome!
We believe residence is an important part of the university experience and we're excited to be welcoming you to our community this year. Have a question? Email us at info.chelsea@utoronto.ca
faqs
Review our Frequently Asked Questions for more information..
current residents
All the info about moving in, directions, community standards and more.
---
Fall Move-In
The move-in period for students at the Chelsea will take place September 4th and 5th.
Residence and hotel staff will be available to help you and to answer questions.
Move-In Time Slots
The fall 2022-23 official move-in period is September 4 (12pm-9pm) to September 5 (8am-9pm)
You will be required to register for a move-in time slot. This will allow for ample physical distancing to ensure a safe and seamless move-in for all residents. You will receive an email with information regarding registering for a time slot.
Once you have selected your time slot, we ask that you please stick to it to ensure a smooth move-in process. However, we understand that emergencies and unavoidable circumstances may arise preventing you from arriving as scheduled. Should you be unable to arrive as scheduled you will have the ability to cancel and reschedule your time slot online. However, please note that if you need to reschedule to a time that is less than 48 hours prior to your arrival, you will need to contact us to let us know: info.chelsea@utoronto.ca.
To help facilitate physical distancing throughout move-in, we have limited the number of on-site staff. However, rest assured staff and supports are still in place to ensure a safe and efficient move-in. There will be signage posted throughout the building to also assist in directing the move-in process; please ensure you review and adhere to the notices posted. If you require assistance or have any questions, please ask a Chelsea Residence Staff Member or a Chelsea Front Desk Attendant.
Not able to move-in between September 4-5?
Please visit the Front Desk (open 24/7) to check in.
Late Arrivals: All residents must occupy their rooms by midnight on September 11, 2022, in order to avoid forfeiture of the room assignment. If a resident does not pick up their keys and occupy their room by midnight on September 11, 2022 it will be assumed that the resident is cancelling their space in residence. Their reservation, occupancy agreement, and deposit are automatically forfeited and cancelled, and the University may license the Room to another resident forthwith without notice. If you are experiencing circumstances that are unavoidable and are requesting special consideration to arrive late, please contact info.chelsea@utoronto.ca as soon as possible, outlining the details of your situation.
If you are arriving after September 6, 2022, please notify the Residence Life Office as soon as possible
Drop off or Parking
If someone is dropping you off, please access the Chelsea from the Gerrard Street entrance. Do not go to the Bay Street entrance. You will be able to unload your belongings at the Gerrard Street entrance and then the car will need to immediately leave. Underground parking is available at the hotel.
Please note the parking information outlined below is for arrivals between September 4 to September 5 only.
Paid parking will be available to students and their helpers during the official move-in days (Sept 1-6) at 50% off the regular daily rate ($25) for $12.50/day.
Parking does include in and out privileges
After retrieving the parking pass as you enter the garage, guests can go to the front desk to get a stamp to indicate the discounted rate
---
Step-by-Step Move-in Instructions
Arrive at the Chelsea Gerrard Street entrance on the date and time of your registered move-in time slot. It is extremely important that you arrive during your booked time slot. You can cancel and reschedule your time slot online through StarPortal, however, please note that if you need to reschedule to a time that is less than 48 hours prior to your arrival, you will need to contact us to let us know: info.chelsea@utoronto.ca.
You can unload your vehicle at the Gerrard Street entrance, then the vehicle must be immediately relocated. Parking is available on site. We strongly recommend that you and/or one of your helpers remain with your belongings while someone parks your vehicle. Do not leave your belongings unattended.
Day parking will be available in the underground parking garage at the hotel for a discounted rate of $12.50 on September 4 and 5 only. Please validate your parking at the front desk.
Once inside the lobby, please check-in at the 1865 desk (see image below) located to the left of the Gerrard St entrance. Please then join the line for the elevator and ensure you respect social distancing, only enter the elevators with your family/friends/helpers while moving your belongings. If you are moving by yourself, without a friend or family member to help you move, you can leave your belongings in the lobby while you move what you are able to carry up to your room. Please notify the Front Desk that you will be doing this.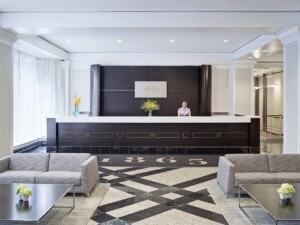 Connect to the Wi-Fi. Wi-Fi access is direct connection to "Chelsea_Guest" (residents) or "Chelsea_Public" (visitors)
Say goodbye to family/helpers. Once you have moved in all of your items, we kindly ask that you say farewell to your family/helpers as quickly as possible in order to adhere to your move-in time slot and allow space for other residents to safely move-in.
---
What to bring
Don't forget to bring
Clothes
Toiletries
Laundry detergent
Your computer
Books
You might also want to bring
A small / mini fridge for your room (max. 1 metre in height); many students rent mini fridges from Store Your Dorm

As part of the application, you will be asked if you would like to bring a mini fridge and share it with your roommate (if in a double room).

Ear plugs or eye masks for sleeping
Semi-formal wear
Winter clothing
What NOT to bring
Do NOT bring your own furniture or mattress (e.g., bed, bookcase) as there is no space in the rooms for this and we do not have storage space for excess furniture.  If you have medical or accessibility-related needs requiring your own furniture or devices, this must be approved by the Dean of Residence's office prior to move in and will require medical documentation.
Additionally, the following items are NOT permitted within hotel rooms:  
Hot plates
Electric Kettles
Rice cookers / Instant Pots / Slow cookers
Halogen lamps
Toasters/Toaster ovens
Electric heaters 
Microwave
Pets (If you have a service animal, please contact info.chelsea@utoronto.ca)
There is limited storage space in each room, so please bring along essential items only.
Location
Directions and Commuting to Campus
Chelsea Residence is located at 33 Gerrard St. W, Toronto.
If travelling to Chelsea Residence via train or GO bus, your final destination will be Union Station. Transportation options from Union Station include TTC, taxis, or Uber.
If travelling by air, transportation from Pearson International Airport also includes the Union-Pearson (UP) Express.
Chelsea Residence is a 15-20 minute walk from campus, however, commute times will vary depending on weather and where a student's classes are located. You can walk, bike, or take public transit when travelling to and from campus, or around the city of Toronto.
Many students utilize a bicycle for faster travel. There are dedicated bike lanes running along the routes to Campus. You may want to consider a public bike share program, such as Bike Share Toronto.
documents
Important information
These documents contain provisions which create obligations for you and impose financial and other responsibilities should you fail to meet your commitment. Please review your respective agreement carefully.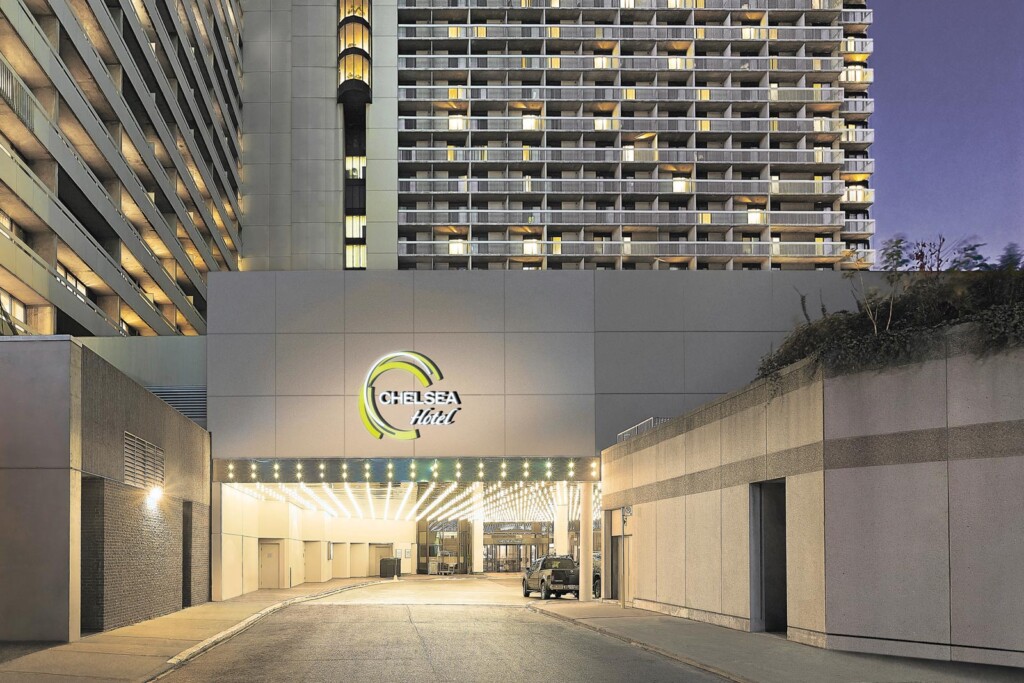 Contact us
We appreciate your patience as we get to your inquiries. We are working hard to prepare the residence spaces and look forward to welcoming students in September!
We ask that parents and students refrain from visiting the hotel until move-in day, as we are not offering tours. Email is the best way to contact us for the moment.
We are also preparing to have an on-site office space and will communicate the details to students once that is set up in early September.
If you have any questions, please review the website then contact us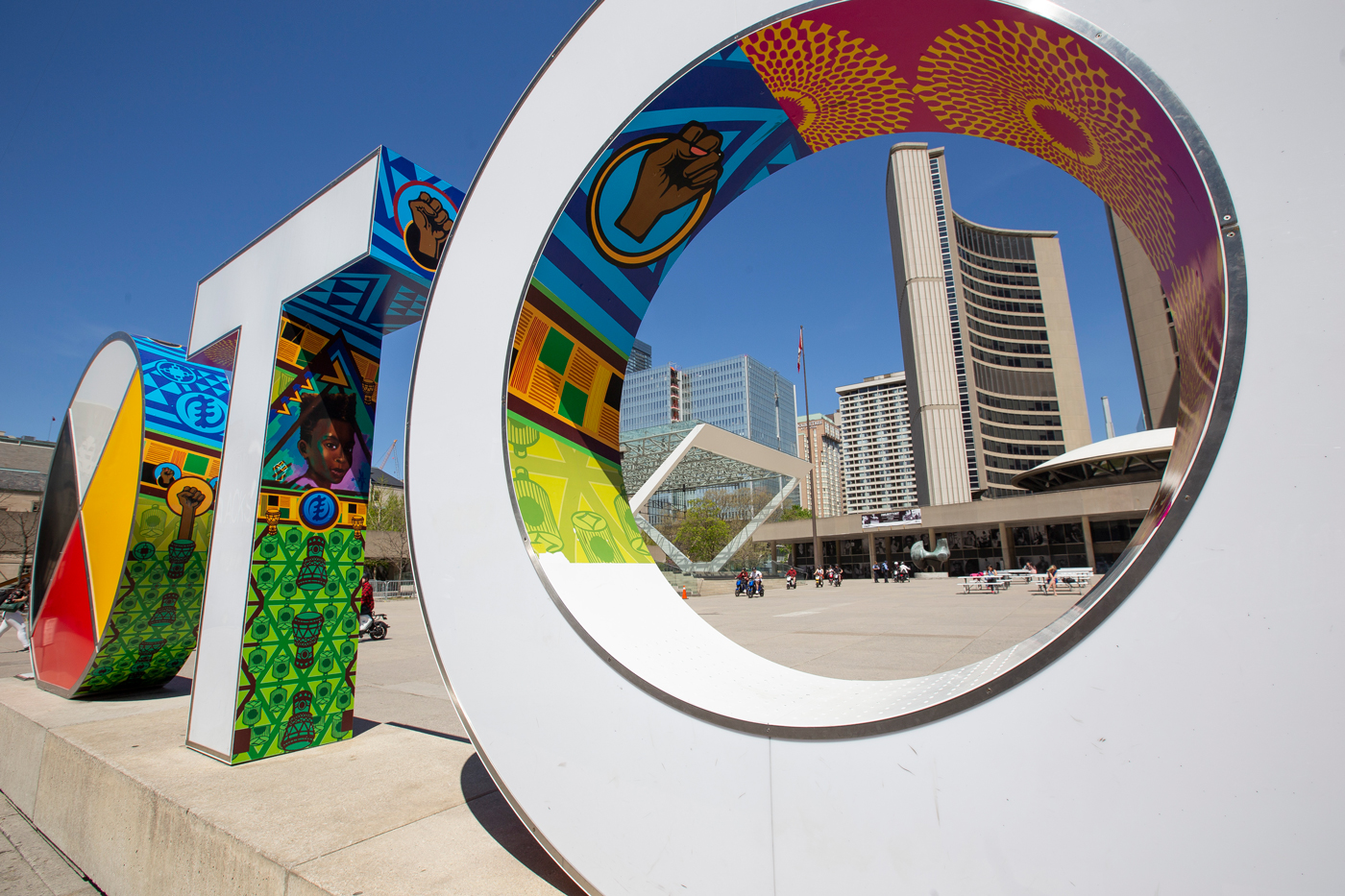 Downtown Toronto
Explore the neighbourhood
Chelsea Residence is steps away from the City Hall and the Nathan Phillips Square (with the famous TORONTO sign), Yonge Dundas Square or the Eaton Centre.
Land Acknowledgment
We wish to acknowledge this land on which Chestnut Residence and the University of Toronto operates. For thousands of years it has been the traditional land of the Huron-Wendat, the Seneca and, most recently, the Mississaugas of the Credit River. Today, this meeting place is still the home to many Indigenous people from across Turtle Island and we are grateful to have the opportunity to work on this land.